Edge of Tomorrow
Release Date:
2014 (USA)
Filename:
3gp mp4 avi
Quality:
Bluray
Genre:
Aksi, Petualang, sci-fi
Video:
~auto, 15fps
Audio:
Amr mp3
Jalan Durasi :
1 jam 46 menit
Dibintangi :
Tom Cruise, Emily Blunt, Bill Paxton
Disutradarai Oleh :
Doug Liman
Bahasa :
English
Subtitle
: Indonesia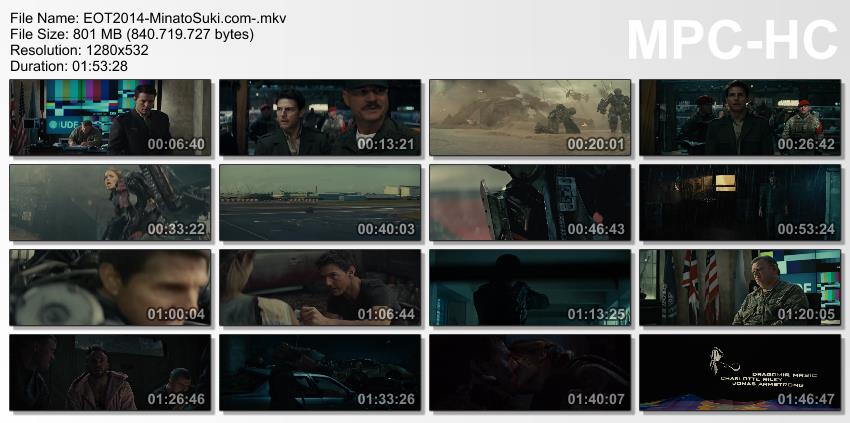 "Edge of Tomorrow" diadaptasi dari novel Jepang karya Hiroshi Sakurazaka yang menceritakan kisah seorang tentara militer masa depan bernama Bill Cage (Tom Cruise). Bill yang harus mengulang terus-menerus hari terakhir dimana ia meninggal dunia. Pada saat dia bertempur ia bertemu dengan prajurit wanita bernama Rita Vrataski (Emily Blunt). Rita kemudian menyuruh Bill untuk menemuinya saat terbangun kembali setelah mati untuk kesekian kalinya. Rita menjelaskan bahwa ia juga pernah mengalami fenomena aneh yang dirasakan Bill tersebut. Rita kemudian meminta Bill untuk berlatih tempur bersamanya setiap kali terbangun demi sebuah misi penting.
©minatosuki™
Link:

BB Code:

Everything is provided only a review, please buy the original officially. All files forbidden to sell because we provide for free, please delete them within 24 hours or buy legally to keep files forever. If you are a content owner please contact us MinatoSukiDesu@gmail.com. we will link your official website as the connection address, or remove it immediately.