Release Date:
2015 (USA)
Filename:
3gp mp4 avi
Quality:
Bluray
Genre:
Aksi, Petualangan
Video:
~auto, 15fps
Audio:
Amr mp3 aac
Jalan Durasi :
1 jam 53 menit
Dibintangi :
Tom Hardy, Charlize Theron, Nicholas Hoult, Rosie Huntington-Whiteley, Zoe Kravitz, Riley Keough, Hugh Keays-Byrne, Abbey Lee, Megan Gale
Disutradarai Oleh :
George Miller
Bahasa :
English
Subtitle
: Indonesia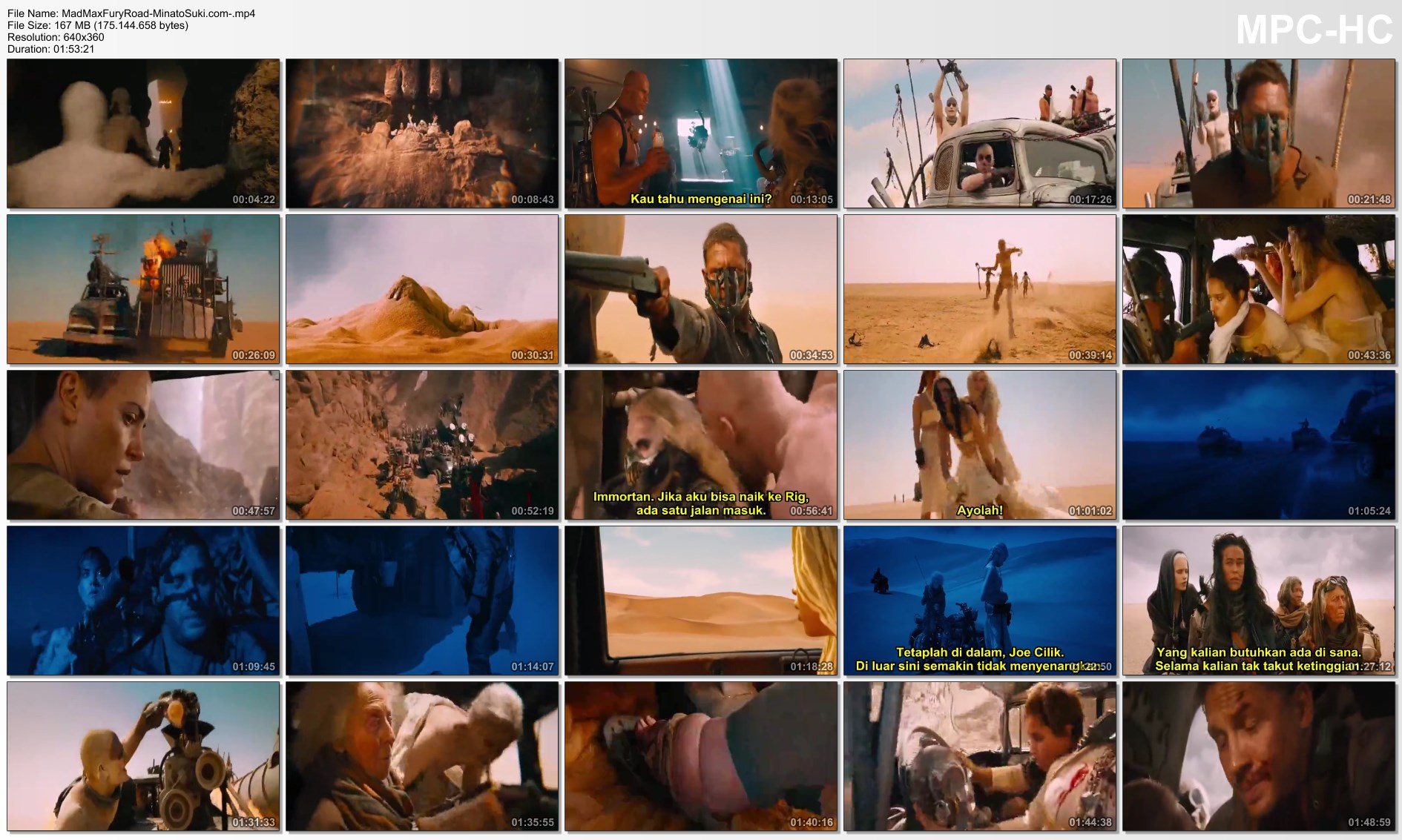 berlatarkan padang pasir setelah kekacauan besar terjadi, hal ini mengakibatkan seluruh umat manusia harus berjuang untuk kebutuhan hidupnya. Max (Tom Hardy) seorang pria yang kehidupannya penuh dengan aksi dan dia juga pria yang tidak banyak bicara. Sekarang Max hanya ingin mencari ketenangan setelah kehilangan istri serta anaknya disaat kekacauan terjadi. Furiosa (Charlize Theron) adalah seorang wanita yang berusaha untuk bisa pergi dari padang pasir sekaligus tetap hidup agar dia dapat kembali ke kota masa kecilnya.
3GP :
SF
|
TF
|
USC
|
UF
MP4 HP 1 :
SF
|
TF
|
USC
|
UF
MP4 HP 2 :
SF
|
TF
|
USC
|
UF
MP4 HD :
SF
|
TF
|
USC
|
UF
AVI :
SF
|
TF
|
USC
|
UF
©minatosuki™
Link:

BB Code:

Everything is provided only a review, please buy the original officially. All files forbidden to sell because we provide for free, please delete them within 24 hours or buy legally to keep files forever. If you are a content owner please contact us MinatoSukiDesu@gmail.com. we will link your official website as the connection address, or remove it immediately.