Tanggal tayang:
21 Des 2016 (USA)
Nama File:
mkv mp4 avi
Rilisan:
Bluray
Genre:
Animasi, Komedi, Musikal
Video:
~auto, 15-23fps
Audio:
Amr mp3 aac
Jalan Durasi :
1 Jam 48 menit
Dibintangi :
Matthew McConaughey, Seth MacFarlane, Tori Kelly, Reese Witherspoon, Taron Egerton, Scarlett Johansson, Nick Offerman, John C. Reilly, Jennifer Saunders, Nick Kroll, Leslie Jones, Asher Blinkoff, Peter Serafinowicz, Jay Pharoah, Laura Dickinson
Disutradarai Oleh :
Garth Jennings
Penulis Naskah :
Garth Jennings
Bahasa :
English
Subtitle
: Indonesia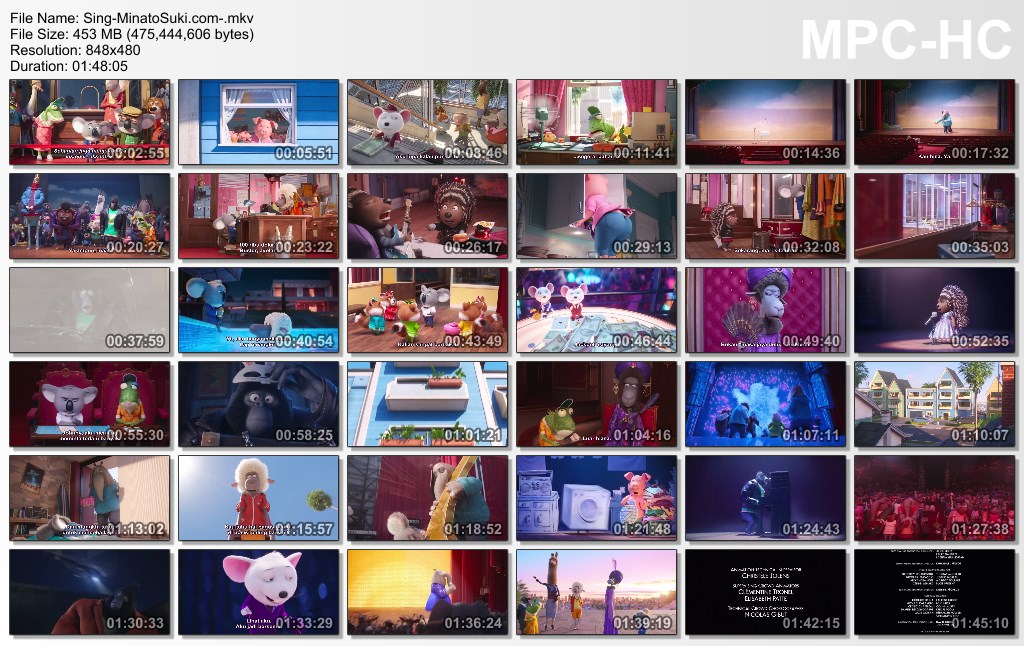 Bercerita seekor koala eksentrik bernama Buster Moon (Matthew McConaughey) yang memiliki usaha teater besar. Seiring berjalannya waktu di masa-masa sulit teaternya hampir bangkrut. Dengan bantuan sahabatnya yang merupakan seekor Domba bernama Eddie (John C. Reily), Buster memutuskan untuk mengadakan kompetisi menyanyi terbesar di dunia sekaligus menjadi pengumpulan dana untuk bisnisnya. Kompetisi menyanyi yang diselenggarakan Buster sukses menarik banyak peminat yang diantaranya adalah seekor babi dan ibu rumah tangga bernama Rosita (Reese Witherspoon), seekor gorila bernama Johnny (Taron Egerton) yang tidak ingin mengikuti jejak ayahnya sebagai kriminal dan sang gajah pemalu bernama Meena (Tori Kelly), yang memiliki pengemar berat yaitu kakeknya sendiri.
MP4 HP :
FF
|
UM
|
USC
|
UF
|
CU
MP4 HD 360p :
FF
|
UM
|
USC
|
UF
|
CU
AVI :
FF
|
UM
|
USC
|
UF
|
CU
MKV 480p :
FF
|
UM
|
USC
|
UF
|
CU
©minatosuki™
Link:

BB Code:

Everything is provided only a review, please buy the original officially. All files forbidden to sell because we provide for free, please delete them within 24 hours or buy legally to keep files forever. If you are a content owner please contact us MinatoSukiDesu@gmail.com. we will link your official website as the connection address, or remove it immediately.