Tanggal tayang:
5 Maret 2005 (JPN)
Nama File:
mkv mp4 avi
Rilisan:
Bluray
Genre:
Aksi, Petualangan, Shounen
Video:
~auto, 15-23fps
Audio:
Amr mp3 aac
Jalan Durasi :
1 jam 31 menit
Dibintangi :
Saga (Shidou Nakamura), Mugiwara Luffy (Mayumi Tanaka), Sanji (Hiroaki Hirata), Nami (Akemi Akamura), Roronoa Zoro (Kazuya Nakai), Usopp (Kappei Yamaguchi), Chopper (Ikue Ootani), Nico Robin (Yuriko Yamaguchi)
Disutradarai Oleh :
Junji Shimizu
Pengarang :
Eiichiro Oda
Bahasa :
Jepang
Subtitle
: Indonesia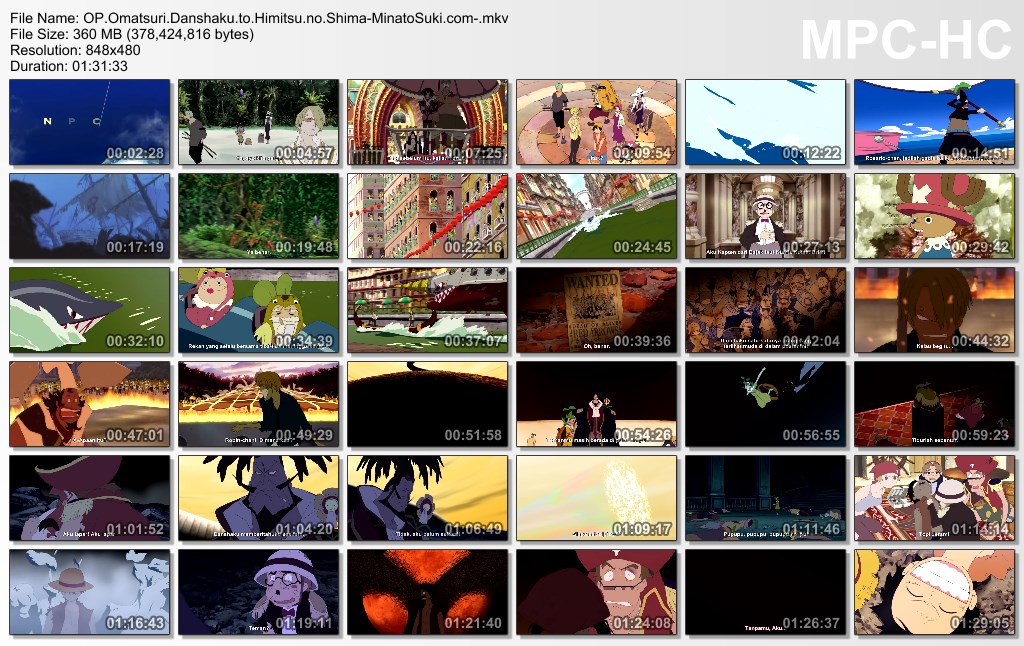 Kelompok Topi Jerami mendapatkan brosur ke sebuah pulau festival yang dijalankan oleh Baron Omatsuri. Luffy tertarik dan memutuskan pergi untuk bersantai serta bersenang-senang. Untuk dapat bersantai harus mengikuti kontes. Namun pulau Omatsuri memiliki banyak misteri, Robin Sanji dan Chopper mencari tahu kebenaran pulau tersebut.
©minatosuki™
Link:

BB Code:

Everything is provided only a review, please buy the original officially. All files forbidden to sell because we provide for free, please delete them within 24 hours or buy legally to keep files forever. If you are a content owner please contact us MinatoSukiDesu@gmail.com. we will link your official website as the connection address, or remove it immediately.