Release Date:
5 Agustus 2016 (USA)
Filename:
mp4 avi mkv
Quality:
Bluray
Genre:
Aksi
Video:
~auto, 15fps
Audio:
Amr mp3 aac
Jalan Durasi :
1 jam 56 menit
Dibintangi :
Will Smith, Jared Leto, Joel Kinnaman, Margot Robbie, Jai Courtney, Cara Delevingne, Viola Davis, Jay Hernandez, Common, Scott Eastwood, Raymond Olubawale, Adewale Akinnuoye-Agbaje, Ike Barinholtz, Adam Beach, Alex Meraz, Karen Fukuhara
Sutradara:
David Ayer
Penulis naskah :
David Ayer, Justin Marks
Bahasa :
English
Subtitle
: Indonesia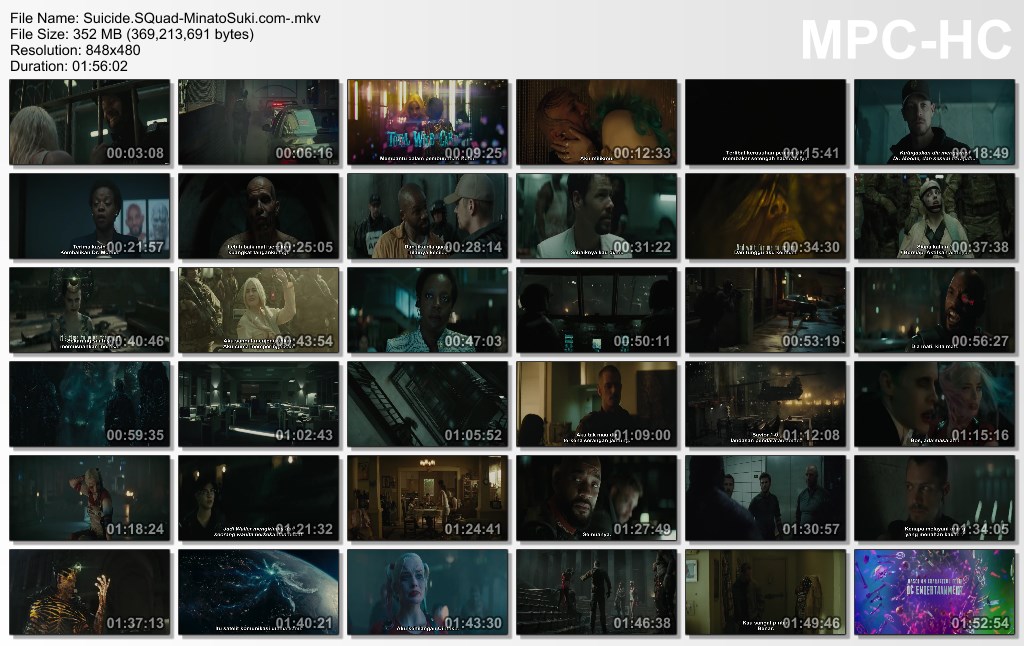 Bercerita suatu kelompok pemerintah yang merencanakan sebuah misi rahasia. Lantas mereka mengumpulkan penjahat-penjahat kelas atas yang dikurung untuk menjalankan misi tersebut. Penjahat tersebut adalah Deadshot (Will Smith), Harley Quinn (Margot Robbie), Joker (Jared Leto), Kapten Boomerang (Jai Courtney), Enchantress (Cara Delevingne) dan yang mereka ketahui hanya bekerja untuk Amanda Waller (Viola Davis).
Dubbing indonesia (Tvrip)
Subtitle indonesia (Bluray)
©minatosuki™
Link:

BB Code:

Everything is provided only a review, please buy the original officially. All files forbidden to sell because we provide for free, please delete them within 24 hours or buy legally to keep files forever. If you are a content owner please contact us
[email protected]
. we will link your official website as the connection address, or remove it immediately.