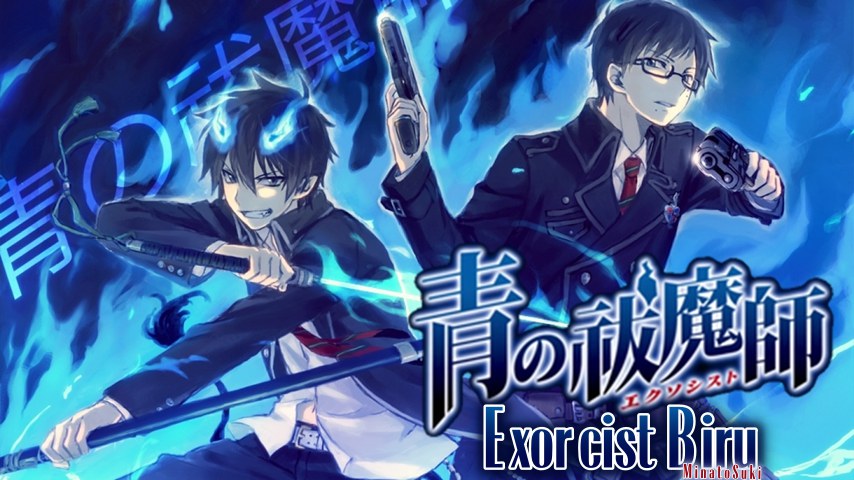 Indonesia : Exorcist biru
Judul : Ao no Exorcist (Ao no Futsumashi)
Japanese : 青の祓魔師(エクソシスト)
Episodes: 25 episode
Status: Selesai Tayang
tayang : 7 Apr 2011 - 2 Okt 2011
Genre : Aksi, Fantasi, Setan, Komedi, Shounen, Supernatural
Studio: A-1 Pictures
Duration: 24 min. per episode
Bercerita seorang pemuda bernama Okumura Rin seorang yang memiliki kekuatan supranatural dan adiknya Okumura Yukio diasuh oleh seorang bapa (pemimpin gereja yang bernama Fujimoto Shiro. Suatu hari Rin mulai mengetahui bahwa ia adalah putra dari Satan (Raja Setan). Untuk melindungi Rin dari kekuatan iblisnya serta menjauhkan pengaruh Satan, Shiro menyegel kekuatan Rin di dalam pedang Kurikara. Namun Rin melepas sarung pedang Kurikara ketika Shiro dalam keadaan yang buruk karena Satan mulai menguasai jiwa Shiro sehingga seketika itu pula Rin berubah menjadi Satan meskipun tidak sepenuhnya yakni daun telinga, gigi taring, muncul ekor dan ia dilapisi dengan api biru yang dapat membakar apapun yang disentuhnya.
©minatosuki™
Link:

BB Code:

Everything is provided only a review, please buy the original officially. All files forbidden to sell because we provide for free, please delete them within 24 hours or buy legally to keep files forever. If you are a content owner please contact us
[email protected]
. we will link your official website as the connection address, or remove it immediately.